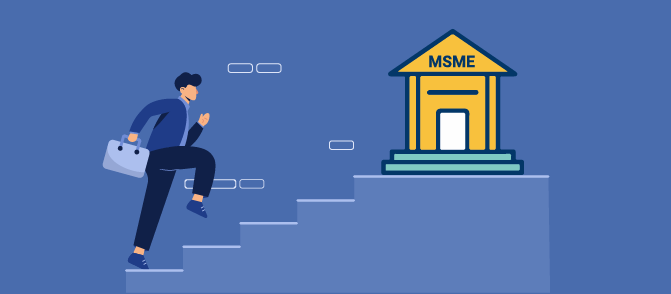 The BlinC Invest report released in December 2022 identified a number of white spaces in MSME lending that can be used to bridge the Rs 25 trillion credit gap in the sector. According to the report, the total credit demand of the MSME sector is Rs 69.3 trillion, of which less than 15% is currently addressed by formal lending sources.
"Businesses need funding to grow. The MSME market is largely underserved in terms of financing and solving this huge credit gap is critical to growing the Indian economy as a whole. The market lacked a comprehensive MSME lending report, which not just highlighted the gap but also understood key pain points to propose business models that will solve the problem. We hope the report will encourage investment and innovative ideas that will provide this key sector the much-needed funds to grow their businesses," said Amit Ratanpal, Founder & MD, BLinC Invest.
Two of the white spaces explored in the report are NBFC (with branch network) and embedded finance.
NBFC (With Branch Network)
Non-Banking Financial Institutions (NBFCs) have emerged as a major credit source for MSMEs over the past few years. However, the BlinC report shows how business disruption due to the pandemic has limited the growth of NBFCs' AUMs (Assets under management) to 2-5% between FY20-FY22. It illustrates that NBFCs are expected to reach a 4-year peak of Rs 13 lakh crore this financial year, due to growing macroeconomic activity.
The report further illustrates that NBFCs are at present majorly focused on northern states such as Rajasthan, Haryana, UP, and Delhi-NCR, but there is a big opportunity in the eastern and north-eastern states as these are currently under-served in terms of NBFC finance. Semi-urban and rural regions also represent a great market opportunity for NBFCs in this regard.
Embedded Finance
Embedded finance is the placement of a financial instrument or product on a non-financial platform. It can enable better and faster credit decisions through the use of alternate data and platform transactional data. Furthermore, embedded finance firms can leverage MSMEs' demographic data to understand the heterogeneity of the segment in order to offer customised financial products.
The increased digitisation of the economy and the growth of e-commerce and fintech in India have catalysed the growth of the embedded finance market. Embedded finance is expected to be more widely adopted by emerging markets in the coming years, and the Indian government's financial inclusion policies are well-aligned with this potential. The embedded finance industry reached $4.5 billion in 2022 and is projected to touch $21.1 billion by 2029.
"MSMEs are very fragmented in the country making customer acquisition very expensive for financial institutions. With the rapidly strengthening infrastructure including telecom, POS and QR code will solve this problem to a great extent as customer acquisition can be done by installing a QR code or POS terminal and financial institutions can leverage QR code and POS transaction data for credit underwriting," Amit Ratanpal told SMBStory.