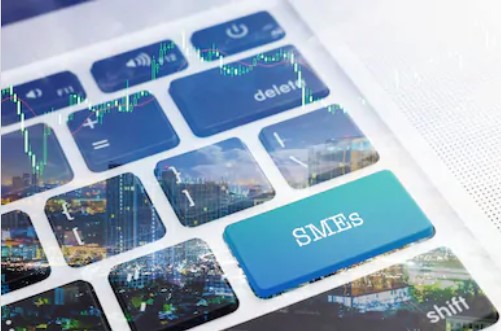 As the transformative power of digitalisation is altering every industry in the country to deliver massive rewards, inevitably, SME lending will also undergo seismic changes. The government's vision is that the SME sector, which contributes significantly to national GDP and employment, gets a boost from digital technologies. Several industry schemes are designed to do just that, and they are making SME financing faster and more accessible.
The Indian economy is heavily reliant on the SME sector, and many people from underdeveloped regions depend on it for income and jobs. However, the sector suffers from inherent finance gaps. Factors such as outdated disbursal techniques by loan officers, dependence on collaterals, small ticket sizes, inadequate customer insights and more inhibit its growth. The sector is infamous for non-user-friendly loan experiences and plagued with long lines and paper trails to obtain working capital. It often takes weeks for an SME to get the funding it needs, and this leaves it vulnerable to market situations and lost opportunities.
This handicap has resulted in a massive credit gap in the sector. Its filling has been a government and industry priority for years. Fortunately, digitalisation provides modern tools such as cloud computing, data science, AI and more to help solve the challenge. Indeed, as the Nandan Nilekani report on 'Deepening of Digital Payments' states, digital transactions per capita has grown from 2.4 in FY14 to 22.42 in FY19. There is a strong belief that this increase in digital transactions is going to alter SME lending significantly and make it more feasible.
Key Focus Areas of Digitalisation
Consequent to digitalisation, noticeable differences are being seen in the form of online loan applications, automated loan approval processes and the creation of online platforms for SMEs to get advisory and consulting services. Lenders have also begun automating the evaluation and review mechanisms for loan applications. This has resulted in faster credit analysis, lowering of the cost of loan disbursals, and streamlined decision-making. In a competitive market, integrated and automated underwriting platforms are further enabling lenders to gain a competitive edge.
In several industries, agile startups and digital tools are boosting customer acquisition, credit decisions, customer lifecycle management, predictive solutions and on-boarding. SME financing is also now beginning to benefit in similar areas with the help of modern technologies.
The following SME funding benefits are being realised with the integration of digital technologies:
A better understanding of SMEs' risk profile with 'deeper data'
Predicting an SME's repayment capacity with transparent assessments
Easy verification of SME books, documents and credit history
Calculating optimal interest and return rates on a case-to-case basis
Reducing physical touchpoints for loan disbursal interactions
Getting a quicker and more efficient review and feedback mechanism
Performing better customer segmentation and devising profitable products
Improving transparency at all stages of the money lending process
In these examples, technology is steadily reducing the need for human intervention in documentation, identification and interest-classification. Furthermore, it is granting mobility to lenders and borrowers by removing geographical barriers. SME users have the option to communicate with loan personnel 24×7. This facility provides instant transactions, cross-selling and payment optimisations that didn't exist earlier. Financial literacy and loan penetration in the SME sector are thus receiving massive upgrades.
Further Training and Attitude-Shifts Needed
Banks and lenders in the SME sector acknowledge that digitalisation has the power to transform the industry. However, to reap the benefits, they still need to invest in the tools and people that can work in the digital age. This will require a mindset change, which is not easy. Employing people skilled in AI, data analytics, machine learning and cloud computing is just the start. They need to apply these skills in the SME sector, and they also need to understand the present and future needs of SMEs to succeed.
In the Indian SME sector, no transaction can be fully automated and digitised. There remains a strong need for some degree of human interaction and touch. Modern digital tools can thus act as a support system for SME lenders and help them build better relationships. The country, primarily, remains a cash economy, and digitalisation for SMEs will merely supplement that, not replace it.